Do you often burns carelessly because of oven rack when going about your activities in the kitchen ? 
Are you scared to let your kids take anything out of the oven due to the high temperature of the oven racks?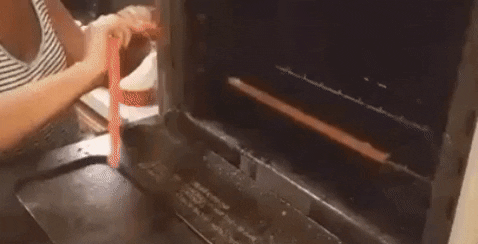 NEVER WORRY ABOUT THESE PROBLEMS!!!
Silicone Oven Rail Guard are a SAFE SOLUTION to all your oven burn problems. 
PREVENT NASTY BURNS AND SCARS!! Stop anyone in your family from ever being burned again.
It's enough to turn your sizzling oven into the safest place on earth.

The Silicone Oven Rail Guard can even help in the unfortunate event your child decides to go exploring for something to touch one day.
Each Silicone Oven Rail Guard is 14 inches long to cover the entire width of your oven. At the same time, Silicone Oven Rail Guard can be

CUT DOWN TO THE LENGTH YOU NEED.

Silicone Oven Rail Guard withstand extreme temperatures of up to 446F, so there is no need to worry about the heat affecting them.

Super easy to clean. Take you merely a few seconds to wipe clean or just put it in your dishwasher.
USAGE:
Cut the oven liner to size and placed on the edge of your oven rack.

If your oven has a heating element under the bottom shelf then place the oven liner on the lowest shelf.

Let the oven cool down before removing the liner.
Package Includes: 2pcs x Silicone Oven Rail Guard