The Sewing Machine Hem Rolling Presser Foot, sometimes also known as the hem foot, is used to sew a hem. The foot folds the raw edge of your fabric under just before it passes under the needle. For garment, home decor or any type of sewing, the rolled hem foot provides a professional-looking finish.  

Hemming prevents the edges from fraying and results in a clean, durable edge. You can stitch a rolled hem in sheer and very lightweight fabrics for evening wear, lingerie, scarves or medium weight for clothes and home decorating.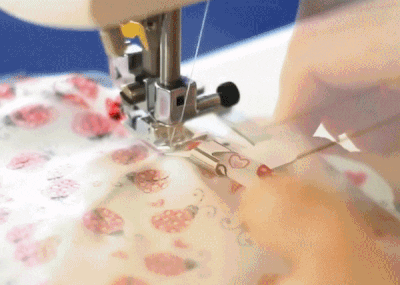 Sews a rolled hem with ease. Adds on a perfect decorative finish to light or medium weight fabrics. It can add delicate and beautiful rolled hems to your projects.
Recommended for most of household low shank snap-on sewing machines.
FEATURES:
Suitable for multi-functional sewing machines and conventional sewing machines;
Fast installation, simple, convenient and practical;
Made of high grade material, solid construction;

It fits Brother, Janome, Singer, Babylock, Kenmore sewing machines, Make hemming sewing tasks become more easier.
SPECIFICATIONS:
Material: Stainless Steel
Product Size: 3/8 inch Rolled Hem Foot (9mm curling); 4/8 inch Rolled Hem Foot (13mm curling); 5/8 inch Rolled Hem Foot (16mm curling); 6/8 inch Rolled Hem Foot (19mm curling); 7/8 inch Rolled Hem Foot (22mm curling); 8/8 inch Rolled Hem Foot (25mm curling)
Product Weight: 20g
 PACKAGE INCLUDED:
1 X Selected Size of Hem Rolling Presser Foot