TURN DOWN THE HEAT
The fantastic outdoor cooling system provides a cool environment from the heat for your favorite outdoor areas. Cooling and humidifier function bring you a cool summer and a more healthy life.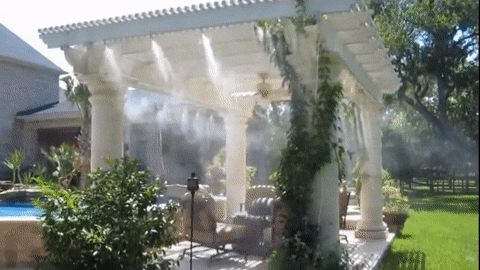 CLEAN & REFRESHING AIR
Misting cooling system produces clean and safe air, completely pre-assembled system delivers very fine mist to significantly cool the air in the hottest summer weather.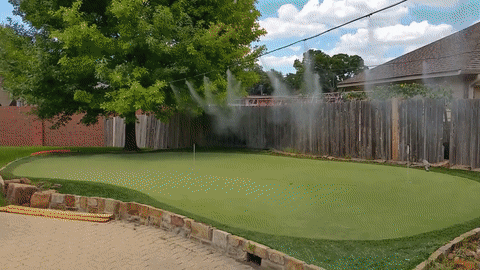 HIGH QUALITY & DURABILITY
Saving more than 10 times cost compared with the humidifier. This is made with high quality UV treated flexible tubing, resistant to UV up to 3.5 or more. Resistant to yellowing, resistant to hydrolysis and resistant to microbial degradation. The built-in stainless steel wafer through advanced forging process, strong durability, is 2.5 times the life of similar nozzle.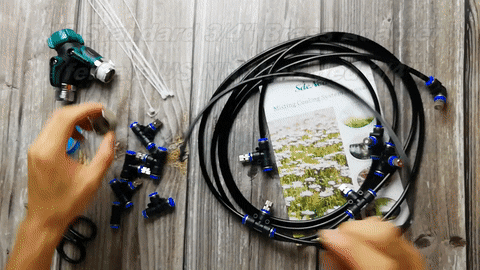 FEATURES:
The fine atomizing nozzle uses a brass body with stainless steel core guide vanes.
The liquid forms a centrifugal vortex in the guide vanes.
The fine hollow mist particles are sprayed from the nozzle holes, which can be widely used in plant humidification and cooling , disinfection, dust reduction, landscaping, salt spray test and other artificial mist.
This nozzle hole is drilled by American precision punching machine, the nozzle diameter is available from 0.1mm to 0.8mm (recommended 0.4mm)
Excellent Workmanship
The nozzle is 100% tested before leaving the factory.
This series is a low-pressure spray. This nozzle can fully use the pressure of tap water for atomization.
SPECIFICATIONS:

Color: White, Black
Available Type:
INSTALLATION STEP: 
It is recommended to install the atomization system at a height of 2.5m to 3m.
Connect the adapter to the faucet.
Turn on the tap and clean the system for 1 minute to clean the system and remove impurities.
Screw the spray nozzle onto the tee fitting, except for one nozzle at the end.
Turn on the faucet to clean the system for 2 minutes to ensure that the system is completely cleaned.
Close the water and install the last nozzle to the joint, using the end plug.
A saddle clip is provided for fixing the atomizing pipe.
Turn on the faucet until the atomizer is working and enjoy the cooling atomizing system.
When not using the atomizing system for a long time, close the nozzle and keep it dry and clean.
NOTE:

Due to the different monitor and light effect, the actual color of the item might be slightly different from the color showed on the pictures. Thank you!
Please allow 1-3mm measuring deviation due to manual measurement.
9M Kit (black or white ):
12M Kit (black or white ):
15M Kit (black or white ):
18M Kit (black or white ):