1/2/4/6 LEATHER STITCHING PUNCH TOOL
You can get 4 pcs leather hole punches include 1 Prong+2 Prong+4 Prong+6Prong, economical and practical, more choices to fit different leather work.
Fork Lace Sewing Chisel - Mainly used for right angles or where only one hole is needed

Bifurcated splicing chisels - Usually used where cornering is required, or smaller leathers can be used.

Fork splice chisels - for straight lines, widely used

Bifurcation shoelace splicing chisels - for long lines, 6 holes at a time, high efficiency

SIZING SPECIFICATION
3mm: Fits for thin and small objects, such as key cases or smaller than key cases.

4mm: Fits for medium thickness of leather items, such as the size of the leather key cases and wallets. (General)

5mm: Fits for middle thick leather large objects, such as a wallet to a variety of large leather backpack size.

6mm: Fits for Thick leather large objects, such as large leather saddles and other various large backpack.

MULTIPLE APPLICATIONS
One tooth:Use to cover position on Right Angle bend,or Single punching positioning.

Two teeth:Use to Punch at Curve corner or short distance Punching.

Four teeth:Commonly used specifications for short lines,use for Straight punch.

Six teeth:For Long time punching.The most used specifications.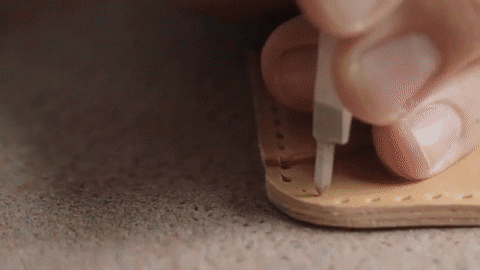 FEATURES:
Made of white steel with four models(1/2/4/6 prong)suitable for different usages. The refined prong are much easier to pull out when punching.The improved design makes you work more efficient

Widely used for leather craft punching,such as for DIY belt,clothing accents, baseball gloves, handbags and purses, wallets, jewelry and craft projects,etc

Has exquisite appearance,sharp prong and strong hardness,they are more exquisite,sharp,and hardness enhance

Leather Hole Punch Size: Prong width:Approx 2.5mm, Prong pitch:Approx 4mm

Leather Craft Kits Note: Each product surfaces are coated with a rust preventive oil before shipping, Please wipe clean before use
SPECIFICATIONS:
Material: High-intensity Steel

Spacing: 3mm/4mm/5mm/6mm

Model: 1+2+4+6 Prong/Set, 10 Prong

Length: 120mm

Color: As the picture show
PACKAGE:
3mm / 4mm / 5mm / 6mm
4 in 1 SET
1 * 1 Prong Leather Stitching Punch Tools
1 * 2 Prong Leather Stitching Punch Tools
1 * 4 Prong Leather Stitching Punch Tools
1 * 6 Prong Leather Stitching Punch Tools