GIVE THE BEST HYGIENE TO YOUR FACE
Titanium Micro-Needle Hydra Roller can be used to stimulate collagen reproduction and to increase the absorption of skincare products.Comparing with typical way for

stimulating

 collagen, this is much more effective and hygiene to every user. It manage to minimize skin damage while doing facial care.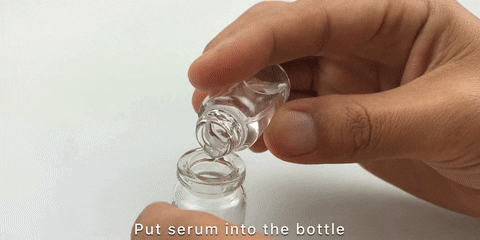 HUMANIZED DESIGN WITH PERFECT-MATCHED FUNCTION
This new hydra roller designed with a 10ml bottle underneath which successfully combined micro needle on top with essence liquid at bottom. Which means it becomes easy and automatically. Every single drop of essence liquid will be apply evenly according to the movement of needle roller.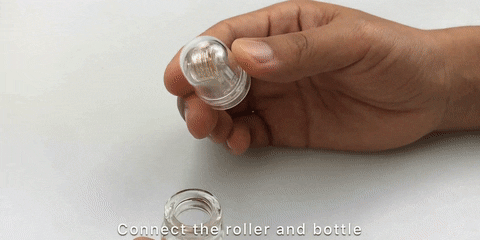 BEST COMPANION FOR EVERY FACIAL ISSUE
This product born to solve every types of facial issue.
For example:
Heal facial wrinkles, sun damage, and thinning skin that mainly caused by the loss of collagen and elastin.
Scars including acne scars, surgical scars and even stretch marks.
It helps to reduce hyper-pigmentation by shedding the top layer of the skin and produce normal melanocyte.
Benefits acne by boosting the absorption and efficacy of topical acne products directly into treated area.
Reduce the appearance of large pores by producing more collagen and slightly thickening the epidermis.
Benefit hair loss such as Alopecia which 

is also know as male pattern baldness, and skin needling has shown to offer the best result.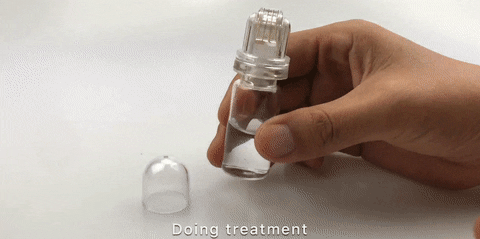 FEATURES:
Effective & Safer

100% brand new and high quality

Excellent quality micro needle roller system

Effectively improve scar, stretch marks, acne, etc

Promote blood circulation and make your skin tighten, elastic

Can be applied onto the entire body, the arms, hands, legs, thighs, body, abdomen, face, etc

Made of Titanium material, friendly and harmless

No side effect on human body, please be assured to use
DESCRIPTIONS:
Certification:Medical CE / ISO13485 / RoHS / PSE

Needle Number 64 Mciro-needle Tips

Needle Depth 0.25mm 

MaterialTitanium / Medical Stainless Steel with Gold Plating / Polycarbonate / High Tensile Silicone Needle + Glass Bottle

Color: Gold + Transparent

Bottle Capacity:10ml ( The roller head is generallyapplicable to 5~50ml ampoule in the market )

Application: Absorption, Moisturizing, Renewing, Shrinking Pore, AcneScar, Crow's Feet and so on.

Product Weight: 0.04kg
INSTRUCTIONS:
Clean your hands and the part that needs to be cured

Use the cleansing and anti-bacterial gel to wipe your hand and skin

Use hot water to flush the roller

You should use some skin care products before using

Using your other hand to straining your skin and rolling before and after over the part to be cured. Roll 8~10 times in every direction. Put enough pressure and make sure the micro-needle can penetrate your skin

After treatment, you should wash and dry up the rolled part
CAUTIONS:
Only for personal use, dont share with other person

Before using the skin roller, you should wash your hands and other parts

Skin with wound should not use this roller

Be careful if the client is allergic to metal

Irritating

 cosmetics is forbidden before the skin recovery

Put where the children cant touch
PACKAGE:
1 * Titanium Micro-Needle Hydra Roller