FRUSTRATED ON LOW PRESSURE WATER SPRAYING ?
Introducing the Garden Irrigation Atomizing Nozzle, made of stainless steel material with 2 points interface and 13 mm inner diameter which provided quality + safety guarantee to you.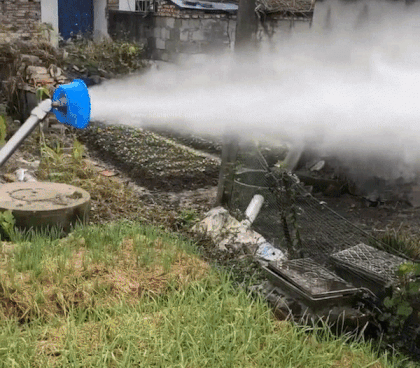 HIGH EFFICIENCY WHILE STAYING & WORKING IN SAME SPOT
By using this high water pressure nozzle, it manage to boost up your gardening & farming work. It is able to reach far distance spraying while saving your water over regular irrigation systems by watering your grass from one spot. Stay and work in same spot is ready now !
WON'T MISS-OUT EVERY PIECES OF LEAVES & GRASSES
With the Porous design & rapid water from the Garden Irrigation Atomizing Nozzle itself, it manage to create water mist effect on every spray and it is reachable to every pieces of leaves or glasses. It means every single pieces of vegetation in your garden & farm is being well-protected with this tool ! Even sands can be watery !
FEATURES:
HIGH-QUALITY MATERIALS: Made of the most advanced materials and achieve very high durability. It will be a smart choice for your garden.
SAVE WATER AND MONEY: Saves up to 70% more water over traditional spray heads, making your system great for saving water in drought conditions. Precision drip watering system delivers just the right amount of water slowly and precisely at plants' roots
EASY TO SETUP AND USE: Connect adaptor in seconds to start watering instantly without other auxiliary power equipment. Easy Hose Connection.
PLUNGER TYPE: Agriculture sprayer plunger-type diesel sprays insecticide machine.
MULTI-FUNCTION: Adjustable, High pressure, windproof, and adjustable atomizing axial flow nozzle design.
360° ROTATABLE: suitable for common sprayers and the atomization effect of high-pressure plunger pump is very good.
SPECIFICATION:
Material: metal

Internal thread: M14 * 1.5 thread

Diameter (approx):

5 Holes

5 Holes with Shield

7 Holes with Shield

Type:
5 Holes : Suit for straight & direct spraying 
5 Holes with Shield: Suit for far or short distance mist spraying
7 Holes with Shield: Best for far distance & big portion mist spraying
All types of Nozzle are able for swivel angle (direct injection, 45 degrees, 90 degrees)
PACKAGE:
Garden Irrigation Atomizing Nozzle
5 Holes / 5 Holes with Shield / 7 Holes with Shield