Best Tool for Skincare Routine 
Our Facial Deep Cleansing Massager is a safe and affordable way to clean face, refine skin texture and improve the muscle tone.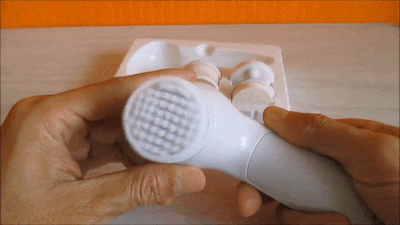 Just within a few minutes, you can have a more healthy, elastic and shinny skin. Massage and application of cream to better penetrate the skin and keep it nourished and hydrated.
FEATURES:

Improve skin care product absorption.
Suitable for daily use.
Soft clean face brush.
Deep cleans and exfoliates the skin.
Gentle and suitable for all skin types.
Rotating Brush System: Effectively removes all dirt, oil, and makeup traces, 10 times more effective than hand washing
SPECIFICATIONS:
Weight: 129g
Packaging: 65 x 36 x 52cm
Material: Durable hard plastic.
PACKAGE INCLUDED:
1 x Main Unit Facial Deep Cleansing Massager
AND
5 x Cleansing Brush Head (Soft Foam Sponge, Rough Foam Sponge, Brush Head, Pumice Stone function, Massage Head [4 bumps])