Easy Shrimp Peeler
helps to peel and devein shrimp in one easy action, You'll clean more shrimp in lesser time. Best kitchen tool.
An easy-grip handle.Simply hold shrimp with rounded part facing up and tail pointing away from you.
Insert the closed tip of the shrimp master into the top of shell.
Gently push tip (still closed) under the shell until it comes out beyond the tail.
Press handles together until shrimp and shell separate.
Rinse each shrimp under cold water. It's that easy.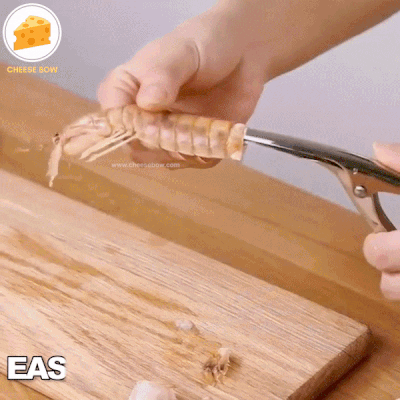 Specifications:
Product Category: Kitchenware
Material:Stainless steel
Size: 21*6.5cm

Applicable Occasions:
employee benefits, anniversary celebrations,

advertising promotions, trade fairs,

festivals, all places, public relations planning,

birthdays, business gifts
Package Include:

1 x Easy Shrimp Peeler