Wow, every family should have one of these Baseboard Duster! Cleaning baseboards could be easier with this cleaner kit, it removes the hard work from cleaning baseboards by removing the need to bend to get down on your knees. Its adjustable and flexible design allows you to extend the handle to the desired length helping you reach any corners and sweeping the dirt away!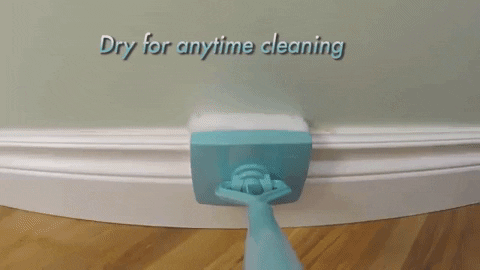 Main Features - 
Advantages

 

- Removes the hard work from cleaning baseboards and helps you clean the baseboards without getting down on your knees or scrubbing the dirt and grime. 
Adjustable

 

- The handle is adjustable which can reach down or reach up high. Can be adjusted from 11.8 inches to 51.2 inches.
Easy to Store

 

- Baseboard Buddy is collapsible and breaks down which is portable and easy to store.
Portable and Flexible

 

- The 360-degree swivel action head enables you to clean baseboards, door moldings and other surface from any angle.
Easy to Clean

 

- The microfiber cleaning pads are easy to clean and can be used many times.
Multi-usages

 

- You can choose to use it in dry or wet way according to your need.
How To Use -
Step 1 - Extend the handle to your desired length.
Step 2 - Place the microfiber pad against the baseboard or door molding.
Step 3 - Walk as the pad glides and lifts the dirt away.
Package Includes -