WHAT IS THIS ?
This is not just a pillow. You can connect it with your computer, in which case it can be used as the Enter key This product can work on Windows and Mac.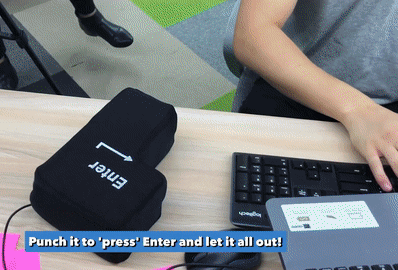 WISH TO RELIEF YOUR STRESS ?
While you are at work or bored with playing games, don't you often have the impulsion to hit your keyboard? Hit the pillow hard! Let off your unhappiness! When you feel tired, lie on it and have a nap to rest. Wish you a sweet dream!
It's strong enough and won't be easily smashed. It can work well.

Super soft plush on the outside and black sponge inside. Soft and comfortable, no odor and no discoloration.
FEATURES:
Small, convenient, easy to use.

With USB interface, easy connect to the computer.

Perfect decompression toys, help to improve work efficiency.

Soft enter key pillow, can help on your noon break.

When you feel stressed, you can hit it strongly without worrying about damaging your keyboard.

The best BUTTON that can save your job, without being low efficiency in work.
SPECIFICATIONS:

Material: Urethane sponge, Polyester

Color: Black

Size: 200*140*100mm
PACKAGE:
1 * Anti-Stress Enter Button