FRUSTRATING ON ITEM DROPPING INTO SQUATTING TOILET ?
This happened always to most of the housing, office or commercial building with squatting toilet bowl.  Item dropping while standing up or even just started to squat was frustrated and crazy, especially expensive item like your beloved phone or even car keys ...
THE BEST TOILET SAVIOR
Introducing the Anti-slipping Toilet Bowl Valve, which allowed you to have an enjoy toilet-ing experience. Worry-free about item dropping with this, it functioned well not only for blocking item dropping into the hole, it works well too as a deodorizer with function of blocking bad smell. With the attached spring underneath, it manage to function well while your poop is going & sliding down.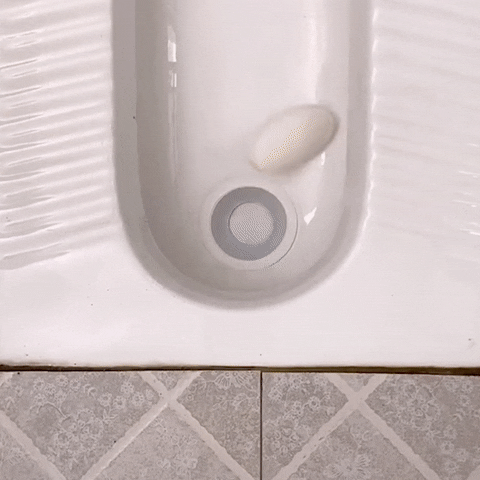 EASY-APPLY & ECO-FRIENDLY
With the advances yet simple structure design, this special creation helps Millions of squatting toilet's user solve their daily issue well. Besides, it is one of the best option for pests control used, block pests away from entering from toilet hole as well. This is a best combination between hygiene & physic, a creation that brings happiness to the world and you can't miss it !
FEATURES:
Non-hacking & Easy application into any squatting toilet bowl
Good blocking for any item dropping in to the hole
Best hygiene & bad smell blocking just like a deodorizer 
Best use for PETS CONTROL
Attached with automatic spring underneath, allowed sliding poop drop thru the cover
Close up automatically after flushing
Durable & long lasting hard plastic material

Best combination between hygiene & physic
SPECIFICATIONS:
Product Usage: Anti-Dropping Squat Toilet Hole Cover
Product Material: Hard Plastic
Product Color: White
Product Size: Big 9-11cm / Small 7.5-8.9cm
Product Application: Squatting toilet hole
PACKAGE:
1 * Anti-slipping Toilet Bowl Valve